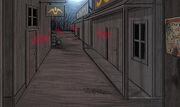 Hood is a flash series created by Hyptosis, who as also one of the creators of the Alice is Dead series. The series focuses on Red Riding Hood (aka Cameron), who as disappeared into a foggy forest, and the Wolf, who was requested by the townspeople to hunt for her.
Ad blocker interference detected!
Wikia is a free-to-use site that makes money from advertising. We have a modified experience for viewers using ad blockers

Wikia is not accessible if you've made further modifications. Remove the custom ad blocker rule(s) and the page will load as expected.