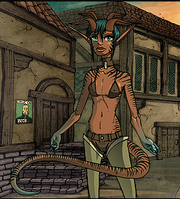 Shribryn is the apprentice of Borynn the Alchemist, who took her under his wing prior to the beginning of Kingdom of Liars. The hero is sent to her by Borynn to further ask about the unharmed artifact in the tavern. She informs the protagonist of a warehouse on the other side of Ashbane where artifacts like that were ordered from. She marks the warehouse on the hero's map and sends him there to investigate further.
During the protagonist's second year in Ashbane, she and her friend Jahti are at the museum where a relic from Shadetale was brought in. She seems to believe in entities known as Stone Gods.
Ad blocker interference detected!
Wikia is a free-to-use site that makes money from advertising. We have a modified experience for viewers using ad blockers

Wikia is not accessible if you've made further modifications. Remove the custom ad blocker rule(s) and the page will load as expected.